Posted by Andrew Falconer in : Interviews, employability and skills , add a comment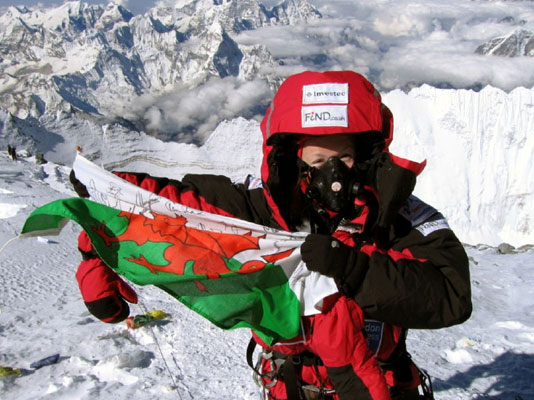 Coping with rejection after rejection was harder than climbing Everest itself. That was one of the messages that Royal Holloway alumnus Tori James shared with students when she returned to the campus recently. Tori was the youngest British woman, and first Welsh woman, to climb Everest. For her, the task was 90% mental attitude, 10% physical strain. But the constant rejection from corporate sponsors kept eroding her spirit, making the project so much more challenging.
At the same event, a final year student mentioned that he increasingly felt bitter with all the rejection letters – and more so when there was no response at all. Similarly, there was immense frustration for one student that had passed five of six stages in a selection process, had invested many hours of substantial research, self development and practice, to fail so close to the end. It can be very hard to pick yourself up from that. Tori's message was that you had to pick yourself up and keep going, but finding mechanisms to help is a little bit more tricky.
I'm aware that despite writing this post, I haven't mastered any technique either.  The last time I failed to secure a position it took me months, literally, to get over it. With rejections following rejections, it should be natural to develop a thick skin and move on, but the reality is that rejection can hurt. This first advice is always to remember that rejection is not personal. But it usually feels that way…. (more…)
Posted by UCL Careers Service in : The Careers Group Blogs, civil service , add a comment
Originally posted at UCL international students blog
The Civil Service currently has a recruitment freeze on, however not so for the Fast Stream. This highly converted entry into the civil service is still recruiting at pace, looking to secure top graduate talent. The scheme is open to UK nationals, EU nationals and EEA or common wealth nationals.
It's worth knowing before you apply that the Civil service that it's a fairly involved process and is extremely thorough. The level of testing, assessment and interviews, sets the profession standard for the recruitment industry.
At the moment the assessment days are held in a purpose built centre in Westminster, although this is soon to change. Facilities are extensive, with even a lounge and kitchen area for candidates.
When I visited the assessment centre earlier this year I was amazed at the work put into securing the right candidates. Just lifting the assessor's manual could give you a work out, being over 4 inches thick.
In terms for tips for someone applying I would suggest that the number one thing you do is to read and read again everything on the Fast Stream web site. The process is described in such detail that to look anywhere else would be a mistake. Talking with the assessors they were keen to point out that the process is designed to be as transparent as possible so each candidate is on a level playing field in terms of information.  I realise that's not much of a secret insiders tips, but it's the best advice if you want to be successful.
In terms of stream selection it's no surprise to learn that the Parliamentary and Diplomatic streams are heavily over subscribed. The HR stream on the other hand has fewer applications. Civil service recruiters stressed that if you were made an offer to be as flexible as possible, as if you reject a choice given to you, you go to the bottom of the pile.
How you will be assessed
You will be marked for each competency using a four point rating scale.  1 = lowest and 4 = highest score.  Half marks are awarded.
If you score less than 2 overall in any competency then you will not be successful so it is important to think about the competencies being tested and be able to demonstrate these.
You are not in competition with the other candidates in your group or on the day.  Your scores are based on your actions, your ability to perform well and demonstrate that you have the competencies that they are looking for.
The Group Exercise
As only 1-2 projects will be agreed on, you may need to eventually give up on the project you are supporting.  This is fine and expected.  The key is to show the assessors that you are able to build alliances and co-operate in order to get a project decided upon by the end of the exercise.
If your project is not put through then suggest sensible agendas/checks that you would like to see put on the successful project that may make it more appealing to the division that you are representing.  Consensus is an important outcome of this exercise.
If your project is the one successfully put through then don't sit back and feel like it is 'mission accomplished'.  You will be marked down.  Continue to be involved in the discussion.
Think about the competencies that they are testing and aim to show that you can do that e.g. if the competency is 'building successful relationships' then ensure that you are building successful relationships!
Use other candidate's names and include them in discussions.  Bring candidates in to discussion who may not have been talking very much.
Don't dominate the group and don't be too quiet.  It is about timing, impact and content rather than the amount that you speak.
Ensure that in the group you are managing the time.  Outline at the beginning how long you will spend discussing each project and time allowed for summing up and decision making at the end.  Keep an eye on the time – someone should be giving time checks to avoid running over.
You are not allowed to vote about which project should go through, this has to be decided through discussion so don't ask other members to vote.
You should contribute your ideas about all of the projects, not just the four that you are for/against.
Use the data you are given in the briefing document – figures and numerical data especially – as this impresses the assessors.
Try to think of new points to raise rather than re-iterating what others have said.  There will different reasons why your division would be for/against a particular project so take the time to think about these during your prep time.
Self assessment
Your self assessments will count towards your overall scores.  However, it is not the scores you give yourself that will be counted, rather the assessor will be assessing you on your ability to:-
Identify positive and negative examples during the exercise
Identify development needs – identify one key area to improve and give a sensible approach to how you could do this.
Identify areas that you did well in and give examples
Show a good degree of insight and reasoning
The Briefing Exercise
Pick a topic that you are interested in.  This is key as you need to be convincing in your argument and able to engage in conversation about the topic you pick.
Be imaginative
Be open to ideas and suggestions from the assessor
Assessors will not grill you on information or areas that you don't know a lot about – their aim is to stretch you not dispirit you!
When writing your brief, think also about measuring success, target groups, costs/resources, pilot schemes, stakeholder interest
The areas they are likely to what to see are:
-          Ideas and further development plans; a mix of basic plan ideas and radical/original ideas
-          Identifying the interested parties; think about who will support the project and who you might need to win over.
-          Project scope, aims and objectives; think about criteria for success, the benefits of the project and the implications
-          Putting project into action; how are you going to roll it out, measure it, what are the risks and how will the project be monitored and assessed
The Interview
Assessors don't see candidates CVs or personal details so know nothing about you when you go in.  The interview is competency based and the assessor will outline these at the start of the interview.  The interview feels quite laid back and chatty but you are still being assessed and this is a good opportunity to shine.
In the interview:
Focus on your actions
Proactively identify learning opportunities and commitment to self development in your examples
Demonstrate an understanding of relationships and situations
Demonstrate a positive approach e.g. a desire to learn and develop rather than 'I had to do X' or 'it was really hard and difficult to change'
If you are using the same example too much, the assessor will ask you to use a different one
The assessor will probe for your actions if you aren't demonstrating the actions you took in that example or showing an understanding of what you learnt/how you developed in that situation
The Policy Recommendation Exercise
Do
identify key issues
give a range of relevant ideas
the policy should appeal to range of audiences
policies should be original
be clear and succinct
ensure that you link all your reasoning to the objective
Don't
run out of time
forget to use the numerical data you are given
use numerical data ineffectively
forget to give a balanced argument
Posted by Helen Curry in : Uncategorized , 1 comment so far
**** Be aware this content is over two years old ****
Ever had one of those moments at interview when you realise while answering a question, as the very words tumble out of your mouth, that you really shouldn't have said that? I was reading an article in THES from a serial interviewee, Nicholas Tesla, and I loved this example:
You get asked about your strengths and weaknesses. I once made the perfectly correct but suicidal point that I had never seen a strength not turn into a weakness in the wrong context, and vice versa. It was a nadir in my career as a professional interviewee. As soon as it was out of my mouth I knew it was over, and it was only the second question.
I wrote once before about how to answer hard interview questions.
Here are some more tips to save your interview performance! Remember the seven sins…
Pride – You know you have to sell yourself, so you have prepared short speeches on your achievements, and bold statistics to quantify the improvements you made, but how do you know when you have gone too far? When you can't remember what the question was anymore. It is a matter of judgement when selling-yourself turns into boasting, so do keep an eye on your interviewers reactions – have they glazed over? Are they still making eye contact? If your answer is getting long check if they really want to know more…
Greed - It can be difficult to know when to begin the salary negotiations. How about waiting until you are actually offered the job? Many employers will be put off if you seem too concerned with the bottom-line. Even if they ask you early on what you expect salary-wise, it might be best to defer this question, say you want to know more about the position – the responsibilities, typical hours etc. That way you will demonstrate a commitment to the work they are offering – it is not just a job to you.
Envy – 'where do you see yourself in five years?'. How about 'sitting in your chair'! Scary stuff. Ambition is good, as long as you demonstrate a good understanding of the work involved and the steps you will need to take to earn it.
Wrath – The question comes up 'why are you leaving your current/previous job' or 'would you say your last boss was a good manager?' This is not the time to vent your feelings on the idiosyncracies of the organisation or your manager's deficiencies. Keep a cool head and analyse his or her management style, express what you consider makes good working relationships.
Lust - Flirting with an interviewer is a very risky strategy. It is usually going to turn out awkward, embarrassing, and what are you going to do if you actually get the job??
Gluttony – So the assessment centre or networking event has a free buffet, or you have been invited to lunch – obviously food is not the main event here. Keep it neat and modest. Demonstrate your professionalism through good personal presentation even outside the interview room.
Sloth – Lack of research about the company, poorly structured answers… it speaks of disinterest, poor attention to detail, and a lack of self-management. Late to the interview? Overly-relaxed body posture? Thin CV? Don't do it!
For a more general overview of preparing for interview, see our free leaflets on Interviews.
Posted by Helen Curry in : Law , 2comments
****Be aware this content is over two years old****
Continuing the legal theme this week, I thought I'd discuss an interview tip given by Clifford Ennico in the book, "The Legal Job Interview",  which contains valuable advice on every stage of the interview process from initial body language to negotiating salary, and the perspective on legal culture makes it
particularly useful over general interview books. However his top tip, his "key rule", stood out to me as somewhat controversial and needing a little more examination.
SAY AS LITTLE AS POSSIBLE
He calls this the 20/80 rule. In any successful interview he reckons he will do 20 percent of the talking, and the interviewer does 80 percent. Why?
the less you say, the less likely you are to say anything risky, anything that contradicts their beliefs. You should be like a politician, even if you all agree on everything but one point, that one negative is what will stick in their minds. They are probably interviewing a lot of candidates for each position, so they might only remember a couple of key things about each candidate.
lawyers like to play things safe. They want to pick the safe candidate who is keen to do things their way. If you assert your own opinion too strongly you might signal to them that you are not a team player, that you are more interested in doing things your way.
they want someone calm and collected who will reassure clients with clear, concise answers. You need to be the lawyer they are looking for.
Of course, the key to success with this approach is asking the right questions.
Rather than demonstrating the qualities they are looking for in your answers, instead you demonstrate them in your questions:
show intelligence and insight in your questions. If one of their specialisms is in an area that is economically doing particularly well or badly, ask how that affects the future of that area – which specialisms are growth areas?
demonstrate your qualities as a good listener who values the opinions of others.
demonstrate the skill of active listening, skilfully asking further questions to get beneath the surface and extract more information.
show them your enthusiasm and ambition – ask what they think is key to being successful in that position (you will also learn if the culture values working hard and long hours, or is more about politics – getting on well with the right people)
flatter the interviewer by showing interest in what they do and being keen to learn from them and soak up their views.
It is an interesting approach – it sounds a little too evasive at first, until you realise the importance of the questions you are asking. While I wouldn't worry trying to achieve the magical 20/80 ratio, the main point to take away is how important it is to ask good questions. Some of the qualities listed above are difficult to demonstrate in any other way, it is a key way of showing your interest in the firm, and they will at least expect one question from you at the end to round off the interview. It is worthwhile preparing a few, so even if they answer some prior to the interview you still have something to ask.
No matter how detailed the recruitment brochure and website has been, no matter how clearly the presentations have explained everything about the firm, it is essential ask them questions!
Posted by TCG Info in : Uncategorized , 1 comment so far
****Be aware this content is over two years old****
Here is a short list of some websites where you can find real-life interview questions that candidates have reported being asked.
All these sites are dependent on students sharing their experiences every year, so if you use them do submit your experiences to them afterwards.
And just a word of caution, recruiters can change questions and indeed whole recruitment strategies without warning, so check the dates of these student reports, and use these as guidance rather than a definitive programme.
Posted by Helen Curry in : Uncategorized , 7comments
*****Be aware this content is over two years old*****
Teamwork
What role do you usually take in a team?
Do you prefer working with others or alone?
What would you do if you felt a team member wasn't pulling their weight?
If the team made a decision you didn't like, what would you do?
Leadership
Do you think your last boss was a good leader?
Are you a natural leader?
When leading a team, what do you do to make sure everyone is contributing?
How would you motivate a team to perform a routine or dull task that just has to be done?
Give an example of when you took responsibility for a team failure.
Adaptability and managing change
When was the last time you changed your mind about something?
When did you last volunteer to do something you weren't entirely sure you could do?
Your team is familiar with using a particular procedure. How would you persuade them to adopt an improvement you thought of?
Self-motivation
Do you need people to tell you when you have done a good job?
You have a long and complex project to work on, how do you stay motivated?
What motivates you?
Will you compete against me for my job?
Decision-making
Give me an example of when you last made a decision that went wrong, and what you did about it.
Do you make decisions quickly? What are the risks of your approach?
Have you ever had to make a decision on someone else's behalf? How did you manage it?
Problem-solving and creativity
Do you prefer acting according to set procedures, or do you prefer solving unexpected problems?
Tell me about something that took longer to complete than you expected. Why did it happen? What did you do to manage the situation?
Communication, interpersonal skills and negotiation
Describe a time you had to control your emotions at work.
You are working with someone on a draft report, but they have misunderstood the purpose of one section. How would you give them feedback?
Personality
If you could change one thing about yourself, what would it be?
Describe yourself in three words.
What was the last film you watched? What did you make of it?
What sort of people do you get on best with?
What energises you?
About the company and the job
Why do you want to work for this company?
Why should we recruit you?
What do you think lies in the future for this company?
How does this job compare with others you are applying for?
How long do you plan to stay with this company?
…other…
Rate yourself on a scale of 1 to 10.
What kinds of things do you worry about?
Tell me a joke!
Tips
Often there is no right answer, or you are given a false choice when really you should talk about how you can adapt to both options e.g. "working with a team energises me when I am thinking up new ideas, but sometimes I like working alone when I am concentrating on a specific task".
You might not have a suitable example from your work experience to answer a question. If not, you can either describe an example from your wider life experience (sports teams, university coursework, musical activities…), or you can describe what you would do in that hypothetical situation. You can develop a hypothetical answer by describing a real situation you observed, and saying what you would have done if you were in charge.
And remember, if you don't understand, or if you have a hundred possible answers to give, don't be afraid to ask for clarification to make sure you give them what they really want!