Posted by UCL Careers Service in : Finance, Law, The Careers Group, city jobs, employability and skills , add a comment
Originally posted at UCL Careers Service Blog
Investment Banking. Management Consultancy. Commercial Law. Accountancy. Risk Management…….
What really goes on inside those towering, shining, slightly intimidating buildings at Canary Wharf and alike? As a student in London you no doubt know of at least one person who is adamant that a career in the city is for them. But what does that really mean to work in one of the roles listed above and how can you find out more?
For a unique, insider's perspective on a career in the City, come on The Careers Group's long-running and successful City Course. During the week you will visit prominent City employers and institutions. You will participate in employer-led business games and listen to presentations and graduate panels about the range of City careers.
At each employer visit you will get the opportunity to meet and network with recent graduates working within the firm, representatives from the graduate recruitment teams and sometimes more senior employees. You'll start early, work hard, and come away with a detailed understanding of how the City works.
You do not have to be studying a particular degree route in order to attend this course but an interest in working in the City and an enthusiasm to find out more is a must!
The course is a long-running event and is extremely popular with all University of London students. You will need to apply with a CV and Covering letter – further details of the application process, including a few hints and tips can be found here. The deadline for completed applications is Friday 21 June 2013.
The cost of the course is £96, which is not payable until you have been accepted onto the course and bursaries are available for those in receipt of hardship funding.
Still not sure if this is for you? Take a look at the Facebook page and get involved in some of the discussions: www.facebook.com/CareersintheCity
Posted by annedelauzun in : Not for Profit, Third Sector, Voluntary work , add a comment
This terminology is used all the time in relation to the not-for-profit or 'third' sector, but the overlap between them can be confusing. Whether you're interested in working in this field or considering starting your own business, it's important to understand the differences.
So: Some charities can be social enterprises and vice versa BUT a community interest company cannot also be a charity.
Posted by The Careers Group News in : The Careers Group, The Careers Group Blogs , add a comment
Originally posted at News
The Careers Group announces that the University of London Temp Agency has reached almost 6,000 registrations since its start in January 2012. Its mission is to place students and graduates into temporary placements both internally within the University of London Colleges and Institutes, as well as externally with businesses from an extensive variety of industries – a service which is free to all students, graduates and jobseekers!
Students and graduates looking for temporary placements are provided with a dedicated website containing all vacancies, which can be filtered in order to match results to all skills and every experience. Registration, which is mandatory in order to apply for any vacancy, is made as easy as possible by only requiring people to provide personal details and upload their CV.
Examples of vacancies currently available are positions as Mystery Shoppers, a Data Analyst with Algorithm Development and Recruitment Consultants. And this is just the latest snapshot of the compelling variety of temporary job opportunities published during the last year. Whether students and graduates are looking for a placement as a Research Officer, Events and Communications Coordinator, Web Banner Designer, Porter or Library Receptionist – all skills, degrees and interests are aimed to be covered.
We asked a student, who has been registered with the University of London Temp Agency for 8 months, about their experience with the service:
'[The University of London Temp Agency] are […] professional and truly dedicated to finding the right job for you. They take into account the type of environment you would like to work in, your skills and job experiences.  […]  I can wholeheartedly say that University of London Temp Agency genuinely cares about its temps and wants them to succeed. I would definitely recommend them.'
Sounds interesting? Then have a look at all current vacancies or contact temps@careers.lon.ac.uk to publish a vacancy.
Posted by UCL Careers Service in : Industry Focus, The Careers Group Blogs , add a comment
Originally posted at UCL Careers Service Blog
The FMCG (Fast Moving Consumer Goods) industry is one of the  most exciting industries to work in! Here are 5 reasons why you should consider this industry:
1. The Consumer is King
From the breakfast bar you buy in the morning, the toiletries you stock up on during the day, through to picking up a chocolate bar on the way home, we are all consumers.  The FMCG industry creates consumer products that are generally low cost and easily available i.e. the products that surround us every day.
2. Brands, brands, brands
FMCG companies are behind some of the world's biggest brand names.  FMCG organisations include Procter & Gamble, Unilever, Johnson & Johnson, Kraft and Nestle.  If you haven't heard of the organisations themselves, you will definitely have heard of their major brands – Ariel, Gillette, Persil, Dove, Neutrogena, Milka, Kit-Kat and many more.
3. Innovation is key
In order to compete, FMCG companies need to continually come up with new ideas for packaging, marketing, advertising and communicating their brands.  Equally, FMCG companies are continually creating new brands – 40% of brands on the top 100 list twenty years ago have already been replaced by new names today.  If you are someone looking for a fast paced, innovative work environment, then FMCG is for you.
4. Good employment prospects
As people will also need to buy FMCG products, this industry has weathered recessions well.  Retail is the largest private sector employer in the UK and the number of graduate retail jobs increased by 11.5% in 2012.
5. It is who you are, not what you studied that counts
The FMCG sector is dynamic, diverse and welcomes graduates from many different degree subjects.  Whether you are studying Engineering, Maths, Arts & Humanities subjects or Social Sciences, there are opportunities for you in the FMCG sector.

For more information about FMCG,
Posted by Amanda Taylor in : The Careers Group Blogs , 1 comment so far
Originally posted at C2 - Releasing Potential
We all know when applying for a job that prospective employers will not just be reading our carefully crafted cover letters or the CVs we spend hours slaving over.
In today's world of instant messaging and online social networking, it appears that more and more of our lives are exposed to prospective employers before they even meet us.
Think to yourself how often you've looked on LinkedIn to find your interviewer's profile, or how much of your research into a recruiting organisation you've done through the company blog, Twitter, Facebook or Pinterest page.
As things stand it's pretty much the norm to expect prospective employers to do the same to their job candidates, and most of us have come to accept this as a fact of modern life.
It's safe to assume that our online output will be perused before we are invited to an interview, and the need to keep your social networking output 'clean' is one that's inspired many articles and the odd story like this one of people being 'let go' because of ill-judged comments they share online.
But adding a new dimension to the online research companies do is the increasing popularity of employers requesting a candidate's Facebook username and password so they can even access a candidate's personal conversations on the site.
This article from The Telegraph discusses how the practice has become increasingly common in the USA and is creeping over to the UK.
According to the article the issue has become so widespread in the USA that it has begun to spark political debate in the senate, with 'two senators (who) specifically want to discover if this practice violates the Stored Communications Act or the Computer Fraud and Abuse Act'
It's nearly impossible to deny that requesting this sort of information from a job candidate is going too far, particularly as what we write in a private Facebook message is not related to how well we will perform at work. However as our lives become increasingly documented on the internet and savvy job hunters ensure their output is guarded by secure privacy settings, it looks as though employers are using every possible avenue to find more information about us.
Although this shows a worrying tendency for some organisations to go past the line of acceptable recruitment practices the temptation to ask a job candidate for this sort of disclosure is becoming something more organisations are willing to do.
What are your thoughts on giving your Facebook login to a prospective employer?
We would love to hear from you.
Posted by Andrew Falconer in : Interviews, employability and skills , add a comment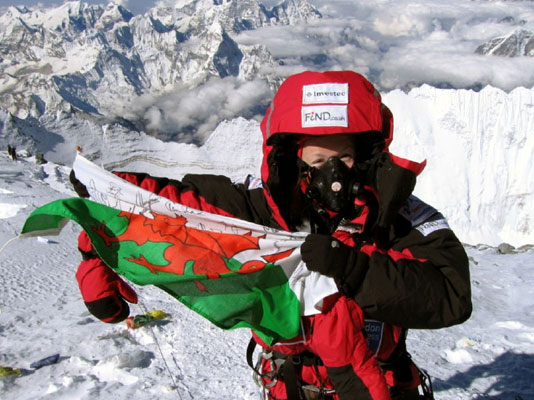 Coping with rejection after rejection was harder than climbing Everest itself. That was one of the messages that Royal Holloway alumnus Tori James shared with students when she returned to the campus recently. Tori was the youngest British woman, and first Welsh woman, to climb Everest. For her, the task was 90% mental attitude, 10% physical strain. But the constant rejection from corporate sponsors kept eroding her spirit, making the project so much more challenging.
At the same event, a final year student mentioned that he increasingly felt bitter with all the rejection letters – and more so when there was no response at all. Similarly, there was immense frustration for one student that had passed five of six stages in a selection process, had invested many hours of substantial research, self development and practice, to fail so close to the end. It can be very hard to pick yourself up from that. Tori's message was that you had to pick yourself up and keep going, but finding mechanisms to help is a little bit more tricky.
I'm aware that despite writing this post, I haven't mastered any technique either.  The last time I failed to secure a position it took me months, literally, to get over it. With rejections following rejections, it should be natural to develop a thick skin and move on, but the reality is that rejection can hurt. This first advice is always to remember that rejection is not personal. But it usually feels that way…. (more…)
Posted by Kirsti Burton in : Industry Focus, employability and skills , add a comment
Originally posted at QM Jobs Blog
We've looked into some of the facts behind the headlines about job market prospects for 2012. Here are a few points you may like to keep in mind as you seek employment or work experience.
Recent research
The Chartered Institute of Personnel and Development (CIPD) published a UK employment outlook in November 2011.  You might be surprised to know that despite the current economic situation, at least 60% of organisations represented definitely do intend to recruit over the coming months.
Take a look at the full report here.

So where are the jobs?
Graduate schemes continue to exist and are mainly (though not solely) run by large organisations, making up around 20% of graduate recruitment annually. Competition for places can be fierce. Pricewaterhouse Coopers (PwC) will get around 30,000 applications from graduates this year for a few hundred places.
Don't let this put you off applying. Do let it motivate you to put in an outstanding  application and have other options in your search strategy. Come and have a Quick Query session with Careers to discuss how. There is a trend for large companies to recruit from the pool of graduates they already know from internships and placements, so think about building your work experience and getting an internship too.
Graduate jobs are not just found in large companies offering graduate schemes. Over 20 million people are employed in the UK* in SMEs (Small to Medium sized Enterprises**). These organisations make up 99% of all UK businesses, yet these vacancies are often overlooked by graduates.  Often this is because these companies are not as visible on campus and can be harder to find.
How to include SMEs in your job and work experience search
SME opportunities are not advertised as widely as those with major corporations. They certainly exist, so your curiosity and research skills will help you find them. A great first step is to get to know who's doing what in your sector. Trade and industry publications (like The Economist, Marketing Week and The New Scientist etc) are really useful for undcovering companies, alongside talking to anyone you know in the industry.
To find out how to identify useful resources for finding unadvertised jobs including trade associations, directories and more, book a Quick Query session take a look at the Resources section of the Queen Mary Careers website.
Take a look too at the STEP programme at www.step.org.uk which links 'talented and ambitious graduates with project focussed placements' in the SME sector. Current roles advertised include Deputy Venue Logistics Managers for the 2012 Olympics.
*Source: HECSU report 2010
** SMEs are defined by the European Commission as having less than 250 employees and annual turnover under Euro 50 million.
Posted by Andrew Falconer in : Uncategorized , add a comment
The Graduate Recruitment Fair season is about to commence with lots of employers trying to encourage you to apply for their positions. The term "Recruitment Fair" suggests potential job offers on the spot. Some international students, particularly from India, are used to spot-recruitment so are often disappointed at the different style. The UK hasn't seen spot-recruitment for decades. instead the Recruitment Fairs tend to be show-cases for employers where students can find out about potential vacancies that may be of interest. There is also a danger that such fairs become a "battle of the stands" where the employer with the most amazing glossy stands with flashing screens and lights, steal the show.
Which is why it's important to look beyond the glitz and the freebies.  Second year undergraduates should use the time to consider the range of opportunities availble – the more open you are to new ideas, the easier it will be to decide later on which career paths interest you. Finalists should likewise be talking to employers and finding out, where possible, the range of roles available. At Graduate Recruitment Fairs employers are usually there to promote one or two specific career paths – e.g. graduate schemes. You may not be interested in those particular career routes but may like the organisation and that should give you scope to research other career options within the organisation. For example, you may not want to work as an analyst for Bloomberg but there may be alternative career options in marketing or HR. (more…)
Posted by Andrew Falconer in : Uncategorized, employability and skills, entrepreneurship , 1 comment so far
A graduate recently told me that she had messaged over twenty professionals on linkedin asking for a job. It had cost her financially and she only received six responses – all negative. She showed me what she had sent them. It was three lines – a link to her profile, a generic comment about her being hardworking and enthusiastic and a plea for a job. I'm surprised she even got six replies. She had completely misunderstood LinkedIn and the subtlety of using it.
I think LinkedIn is a fantastic site. When I spoke at International Futures earlier this year I think I sounded like a LinkedIn salesman or evangelist. For me the site delivers so much potential, both for experienced professionals and those starting out in their careers.  You can listen to my enthusiasm and watch the powerpoint slides online.
The graduate I met had very high and misguided expectations about LinkedIn. It is not a jobs website. It is also not Facebook. It's a professional network that requires input. Students often expect that once their profile is published suddenly all sorts of job offers will pour into their inbox. It is rare that just by turning up to a networking event you would immediately ask for a job, so why would you on LinkedIn?
And LinkedIn is like a networking event. Professionals from all sorts of industries, from all over the world (although some countries have a difficult relationship with such networks) are on the site. My first "real" job was as a Funeral Director – and yes, even they are on there. If you want to work in anything from finance to international development or environmental consultancy, the site could help you.
So if you can't ask for a job, what can you do? Networking is a process.  We'll be running a series of posts on Networking at the end of October which will look at the process and how you put it into practice. Essentially the key benefit of networking is about building knowledge. The jobs come once you have the level of knowledge required to understand opportunities when they arise. If you want to work in environmental consulting, there are lots of resources online but LinkedIn has groups where current professionals discuss key issues. It is in these groups that you can learn more about the profession and ask (intelligent!) questions of its members. It can then also drive them to your lovingly-created profile.  And just to be sure, there are some good sites warning of LinkedIn faux pas.
It is of course not the only social networking site around. Indeed Facebook is being used by employers as a recruitment tool, with some sectors finding it more succesful than LinkedIn. But Facebook is not conducive to professional groups, particularly where professionals seek to seperate their private and business lives. Like all aspects of job seeking, use a variety of tools to explore opportunties.
LinkedIn has a Learning Centre with resources for students and job seekers. Whilst oriented towards an American market, the information is useful for those setting up LinkedIn profiles for the first time and taking first steps towards engaging with professionals. Some college careers services also run hands-on LinkedIn training sessions which are worth participating in. But, like with all networking, the advice is to put yourself out there, get started. It may take a while to build confidence but people on LinkedIn are there because they like to share. If in doubt remember the first rule of networking – people love talking about themselves! So just ask.