Posted by robinsonjenna in : CVs, Creative Industries , add a comment
Looking to get that next big gig in the creative industry, but don't know quite how to make your CV pop? Then Gavin Rickett's new "How-To" is hot off the presses, eager to jump into your CV-writing fingertips. Clearly Creative CVs is a useful manual for creatives with a few years' experience under their belts. It gives specific, insider tips into what catches the eyes of creative employers on a CV, and what makes them turn up their nose. The book's layout suffers from a few unfortunate stylistic choices, but the core of the content trumps such formal concerns.
What I find most useful in Ricketts' guide is the specificity and clarity of the advice he provides. For example, the tidbits on "how to remain inert" are extremely compelling in explaining what elements, such as age or mailing address, might subtly bias an employer against an applicant. The standard checklist of CV do's and don'ts for distinctive formatting and detail are also included, but Rickett's the conceptual twist of "think of your CV like a department store," as well as his insider knowledge keep his advice both fresh and pragmatic.
The book's structure makes it easy to use, as well. Three sections divide up the material into pre-writing, creating the CV, and the job application process itself (including unexpected advice for cover letters, following up, and personalized voicemail greetings). He even gives a handy symbol system for the most pertinent information, for those applicants truly on a time crunch.
The drawbacks? Not to be nit-picky, but I always find it a little ironic when CV-advice books misspell a few words, or include lackluster formatting—of which Clearly Creative CVs is occasionally guilty. But these superficial can be overlooked, as the content itself is worthwhile enough. More problematic is the fact that this book seems targeted toward creatives who already have a fair amount of professional credits to their name; students or recent grads might want to skim or skip over some sections to avoid feeling totally wet behind the ears.
Overall, this book is handy for those looking to learn the little CV details that make a big difference for employers in the creative industry. I would recommend it to those who already have decent content for their CV, but are looking for the creative edge to make it stand out from the stack.
This post was written by Alana Moreno, studying at King's College London
Posted by Andrew Falconer in : CVs, Selection Process , 1 comment so far
Our latest guest post is from an Application Adviser at Royal Holloway, University of London. Application Advisers work in the Careers Service to provide a critical perspective on CVs and application forms.
Needless to say, after a year as an Application Advisor, I have seen my fair share of CVs. It can feel like I'm looking at the same one over and over as everyone seems to make the same mistakes. Students have dutifully followed a CV template, talked eloquently about their education, experience and interests and provided references. Where some of the major problems seem to lie is in the details and presentation of the information. While some may consider layout and presentation to be secondary concerns in the production of a good CV this couldn't be any further from the truth. If a recruiter has 150+ CVs to shortlist down to 10 it is often something small and superficial that could get you thrown out at the first cut. We may be told not to judge a book by its cover but that doesn't stop us all doing it.
Here are a few things to watch out for:
Never put 'CV' or 'Curriculum Vitae' at the top.
Don't make the font too big or too small.
Avoid big blocks of text. Write in short concise sentences, elaborate in your cover letter.
Don't over format

because

it's

really

distracting. Use formatting selectively to draw the reader's attention to key information.
Be sparing with your bullet points.
Don't try to squash too much information together, leave some white space on the page.
Proof read – proof read – proof read. Spelling and punctuation mistakes don't make a good impression.
If you have a good CV layout then you increase the chance that someone will actually read it and realise how wonderfully qualified you are. There are a few other things you can do to improve your CV which people tend to forget:
Tailor every CV. Do not make one version and send it out to everyone (yes it is obvious!)
Use the job description and person specification to build your CV. Show that you understand the job, their requirements and make it easy for them to see how you fit.
Do not tell them how enthusiastic you are, how hard working, a quick learner, efficient at time management, etc. Show them. Demonstrate your skills through your experience by giving examples as evidence.
Always send a cover letter with a CV (unless they explicitly state not to). Elaborate on your experience and spell out why you are a good candidate for the position.
Finally, the last thing I would say is to show your CV to someone, either a friend, relative or take it to your Careers Service. I may see the same mistakes time and time again but importantly I am the person seeing them, not a potential employer, and myself and the other Application Advisors are able to point out ways to improve each CV before it gets sent to someone who has the potential to offer you a job or an internship.
Hopefully these few pointers are of some use to you – happy CV writing!
Check out our resources on CV writing on Careers Tagged.
Posted by Andrew Falconer in : employability and skills , add a comment
Passionate about helping others? Passionate about working for a charity? Passionate about the media? Passionate about finance? Passionate – possibly the most over-used work in CVs and covering letters.
When I worked in Parliament I would receive letters from aspiring interns on a regular basis. They were all enthusiastic, or even passionate, about either my employer's political party, involvement in Select Committees or stance on issues. Indeed in this respect you couldn't see any difference between Oxbridge and other university backgrounds – everyone was passionate.
To look after an intern takes time and energy. It can be expensive. If I have to manage an intern then the chances are that I am not able to do something else – the opportunity cost. With businesses this is a very real cost which can have a significant impact on their profitability.
And yet passion is not just good but often essential. Having a burning desire to gain experience in your chosen field is fantastic. But is has to be balanced with pragmatism – what can you actually do?
The speculative letters that made the greatest impression were those that focused on skills and relevant practical experience. They had identified what I would find most useful in the office and gave me evidence of their ability to do so. For example, successful letters referred to specific examples of different research methods and how I could make use of them. Others talked about their writing or customer service skills.
This was brought home to me recently when I had to review and score 45 CVs and letters for potential placement students in Media Arts. Some of the applications were stunning – the best I had seen on this scheme. But out of 45 applications, only 5 received the maximum score of 5/5 that I could give. And they were the ones that separated passion and skills. They made it easy for me to read exactly what skills they had and how they could be used on an industrial placement.
"Placement providers are not looking for extra work explaining every detail of the industry to the intern, they are looking for a set of helping hands" Placement Applicant, Royal Holloway
In reality, both skills and passion are essential. If you don't have or can't express your passion then the chances are that your skills will not be enough to take you forward in the process. Most recruitment processes can be summed up by three questions: Can you do the job (skills), Will you do the job (passion) and will you fit in? Each element must be covered in your application.
Posted by Andrew Falconer in : CVs, Selection Process, employability and skills , add a comment
It's a reality today that, in most cases, you'll be applying for a job that's been posted online, and your CV will be screened using talent acquisition software. If this is the case, many of the old, tried and true methods for making your CV standout no longer apply. You have to get past a software application before any human will see your resume and potentially be drawn by the sophisticated paper, font, formatting/layout, graphics, picture, etc. over which you have laboured. The software isn't interested in or impressed by any of these things and, in fact, some can actually hinder the visibility of your CV.
In the rising number of organisations using applicant tracking / talent acquisition software, CVs are entered into an electronic database where they can be searched and filtered using various criteria such as education, skills, experience or other qualifications required by the hiring organisation. Even if you meet all the required criteria, if your CV doesn't display them in a way that enables the software to detect them, you may never even be considered as a candidate. Chances are, you may not know whether your CV will be scanned or entered into a database for electronic screening, so it is best to assume that will be the case and use these hints while writing and formatting your CV.
So, how can you tailor your CV to grab the attention of a piece of software?
Use keywords to show up in search results
Once CVs are collected, recruiters and hiring managers are likely to search the database using keywords that they consider to be the most important knowledge, skills, experience or character traits they are searching for in a candidate. They will then look more closely at the CVs that are selected into the search results. Make sure your CV contains the right keywords to ensure it appears in these search results.
But, how can you know which keywords recruiters may use? The best clues are found within the job advertisement itself. Look carefully through to find the words recruiters are using to describe the key qualifications for the job. Also look in the job posting and the organisation web site to discover what is important to the company and get clues about the character traits that best fit their culture. Highlight the knowledge, skills, abilities, experience and character traits which you possess and which the organisation has identified as important to the job or the company. Then, use the same wording that appears in the job description to describe your qualifications in your CV and, if applicable, your cover letter. If the key term commonly uses an acronym, include both the acronym and the full text phrase (i.e. Microsoft Word / MS Word, Six Sigma / 6∑ ).
For the most part, you should be able to include keywords naturally within the context of your CV as you describe your skills, experience and accomplishments. In some cases, you may find it helpful to include a list of equipment, technology tools, software applications, languages, or other skills with which you have proficiency. It is also acceptable to include a separate "keyword paragraph" at the end of the CV where you just list all the keywords with commas or semicolons separating them. Of course, as in all aspects of your CV, the keywords you include must actually describe the knowledge, skills, abilities and character traits you possess. If you cannot claim them, don't include them.
Format your CV to meet software needs
Your beautifully formatted CV with columns, bullet points, bolded text, fancy font, section breaks, shading and other formatting tools is likely to end up looking like unintelligible alphabet soup when scanned into talent acquisition software. You will need to have a stripped down text version of your CV that can easily slide into a database without losing its readability. Here are a few tips:
Choose a simple, commonly used font such as Arial.
Instead of underlines, bolding or italics, use capitalisation to set off titles and sections.
Rather than bullet points, use the * or < character from your keyboard.
Include white space to ensure your stripped-down CV is easily readable by both machine and humans; set the sections apart with blank lines.
Choose commonly used terms to label the sections of your CV, such as: Experience, Education, Skills, Summary, etc. so the software will be able to automatically categorise the data.
Put your contact information at the top, using a separate line for each element (address, phone, email, etc.), so the software will correctly identify and categorize it.
Test your software-friendly CV version by opening it in Notepad or another text application. Check to make sure it is readable; make any necessary adjustments before saving it as a text file.
Whenever an online job application asks you to "copy and paste" your CV, you know that it is going into a database to be screened by a software application. Use your text version. If you email your resume to an organisation, consider including both your beautifully-formatted version meant to be printed and read and your simplified text version that will be easily entered into a database. But, be sure that the content in each version is the same!
When you take care to research and include relevant keywords and format your CV for software-compatibility, you increase the probability that your qualifications will be recognized by automated screening tools, and your CV will be read by actual humans.
Sean Conrad works for Halogen Software, whose software automates talent acquisition,performance management, succession planning and other talent management functions. He writes about recruitment and other talent management best practices for the Halogen blog.
Posted by TCG Info in : Arts & Heritage, CVs, Media, employability and skills, networking , add a comment
Guest blogger Luke Cairns, producer with Butchers Hook Video Production, shares his insight into developing a career in the film industry.
During a normal working week here at Butchers Hook Video, I've come to expect at least a dozen CV's of young people interested in breaking into the film business in the UK.
Now it is widely known that getting a break in the business is difficult, so in this article I'll attempt to address this and offer some tips I've picked up along my career from lowly runner to corporate video producer working with Fortune 500 companies.
The reason the film business is based on the "who you know" principle is simple – people senior to you (technicians/producers etc) need to be sure they know and can trust people in their employ – because mistakes can reflect badly on them.
In extreme cases – it can have a seriously detrimental effect on a career – as the business is relatively small and bad news travels fast. But equally – building a good reputation means your good name travels fast.
One of the most common pitfalls I see when I receive CVs of young people is a total lack of experience in the business. Now, this may not seem too unreasonable – as the CV comes from a person who has just left school or University with a newly minted academic qualification.
Now having the qualification is a big plus – but it will need to be supplemented with some real world experience. Thus the chicken and the egg scenario, fortunately there are some relatively straight forward ways to gain the necessary experience.
The very first step on the journey into the industry is to decide what specialism you want to take. If you want to break into a technical specialism (i.e. camera, sound, make up etc) the first essential is to have a good deal of experience with the equipment. For the auteur and post production people, the best method is to get creating and make a decent show reel as an absolute priority. For people interested in the production side of the business, a solid grasp of figures and the ability to network and schmooze is ideal!
After this – the next step is to get involved with as many free projects as possible in your local area. This can help people who haven't decided what area they want to specialise in and give vital experience to everyone else.  Aside from experience, the other major benefit of freebies is networking.  The importance of networking to those in the industry (from producer down) can't be too emphatically emphasised. If you happen to be working as camera assistant (for example) for a DoP on a free shoot and do a great job – the chances are you will be remembered when the DoP is working on a paid job next time.
A great resource for finding jobs on low budget films in your local area is Shooting People
After a number of freebies – you'll have a great deal more experience and your CV will look like the kind of CV that producers want to see!
When you progress to paid shoots – here are a few minimum expectations I have for people in my employ. You need to have boundless energy and enthusiasm and stay 100% positive! A strong grasp of the technical aspects of your specialism sounds like a total given but again, need to be emphasised.
One of main ways people get into production is through the time honoured route of being a runner.  Now this isn't a pretty route – they are also the most put upon and badly paid people in the business – I found it akin to slave labour! However runners are the work horses of the industry and are vital – and pay your dues (and work bloody hard!) and it pays off.
To conclude – entry to the film and video industry is tough – but very rewarding if you work hard and know how to play the game properly!
Our Facebook page "Careers in the Creative Industries" can provide additional advice.
Posted by Kirsti Burton in : The Careers Group Blogs , add a comment
Originally posted at QM Jobs Blog
You have painstakingly prepared your CV or application form and clicked send. You imagine an employer receiving it, perusing what you've written and then emailing you back. You wait. You wait. You hear nothing.
Sound familiar? It's a common experience and a frustrating one. So too is the experience of sending in an application form you have spent hours over, then receiving a rejection almost immediately.
So what's actually happening to you CV or application form once you click send? We've done a survey amongst a small sample of employers to get the inside perspective and combined this with known trends in recruitment to bring you the following insights.
Once you click send…
Your CV or application form lands in a (probably very) busy recruitment team. It will join a large number of others awaiting screening. It's unlikely that someone will look at it straight away.
If this is the case, why did you get a rejection reply so quickly?
That's where technology comes in. The employer may be using screening software to sort applications and reject automatically those that do not appear to meet key criteria (e.g., academic results, technical knowledge and employability skills). This software is being used in more and more cases, although not all. None of the employers in our survey were using software for the first stage screening. However, all are using specialist software to store and process applications through the recruitment process.
Aren't employers missing some great applicants by automating screening?
That may well be happening, but with large numbers of strong applicants and pressure to reduce recruitment costs, that may be a risk worth taking. To avoid being the one who gets missed, make sure your CV contains terms which directly link to the competencies and qualifications needed for the role. These will match the search terms in the software and make your selection more likely.
So it's just about matching some key words really?
It's much more than that. The full content and presentation of your CV and application matters a great deal. As one recruiter fed back to us "I believe candidates do not feel that attention is paid to their CVs…This is not true… some do spend the time both at screening and throughout the process to read the CV fully."
Impact matters.
How long do you imagine a recruiter will take to read your CV fully? A trained eye may view it for 60 seconds (or less!). You need to make an impact in that time. The same goes for application form questions which are often competency based. "We … read through the answers to the competency based questions to look for good examples that the candidate has given and score these". So it's not just about having an example, but having a good and clearly set out example (e.g. of team working) to make sure that your evidence can score as highly as possible.
Is it only Human Resources who read my CV?
No. Our survey showed that people from the business line (i.e. those working in teams you may join) are also involved both early in the selection process and, of course, later if you proceed through to interviews. They will be sent copies of your application materials and have read them, so expect to be able to back up what you said!
What happens to my application once it's all over?
"If the candidate is successful then the CVs, application forms and any other information about the candidate will be passed over to HR to store in their personnel file. If the candidate is unsuccessful, their details are stored separately to the main database as we sometimes find that candidates may come back to us in future to be considered for other positions. All candidates are informed that their details will be kept on file for future vacancies." This survey response is typical of many employers. A couple of points to note. Firstly, remember that a previous application may be looked at if you apply to the company again. Be consistent. Secondly, when successful for a role, your application information will be kept on file and could be referred to at any point, so think twice about being 'economical with the truth' in your content.
Read more in the Wall Street Journal about the journey of a CV from a US perspective
Posted by Andrew Falconer in : Our Careers, career profiles, city jobs , add a comment
Louisa Davies is a careers adviser with a background in the recruitment industry. Here she continues our series of posts about our professional careers.
In my final year at Durham University I spent a couple of hours completing an application for  a graduate scheme, attended an assessment centre and an interview and was appalled when I didn't get accepted.  "What?  You don't want me?  But I'm an all-rounder!", I shrieked (not literally).  I was so put out that I stopped filling out forms, stopped being interested and dedicated myself to enjoying my final year instead.  No doubt a common story.  Thus I found myself, post-finals, sitting in front of a computer trawling through job boards looking for something I could do.  And so I ended up in recruitment.
As it happens, this was in fact a good fit for me and it made the most of my skills in relationship management, sales, organisation and many others.  I took to it pretty quickly and because I was relatively good at it, found myself getting promoted up the ladder.  It was an exciting environment, with big highs (emotional and financial) when things were going well, but then long stretches of boredom and stress when there wasn't much business around.  We worked to targets which I found very motivating and the rewards were great.  On the other hand, missing targets could be extremely frustrating and nerve-wracking. 
I spent all day on the phone, speaking to candidates and clients; trying to understand what the client was looking for, getting to know the candidates and working out where they would fit, negotiating salaries and more importantly, our sales margin.  We worked long hours and it's the kind of job where you are never finished.  There is always another person you can call.
I learnt that recruitment is basically sales.  Persuading people.  Influencing.  Communicating effectively.  These are the skills I nurtured in recruitment, along with a good head for business, an understanding of how to make a profit and a taste for expensive holidays.  It was good, but it was hard.
After five years in the industry I was tired and had had enough.  I was now responsible for other people's targets, which was even more stressful, and I wanted more from my work.  It would have been very easy to move within recruitment but I realised that this would only give me a temporary reprieve – I had to get out and make a proper change.  I actually had to engage my brain and think about my own careers for a change.
I started by trying to work out what I actually liked about my job.  What elements of it did I still get a buzz out of?  What did I think I was really good at?  What did my bosses praise me for? And then conversely, what areas had become unbearable?  What exactly had I had enough of?  It boiled down to the fact that I still loved talking to my candidates, trying to understand them, their skills and their motivation, but I was tired of it all coming down to profit.
Next I started looking at job sites and started avidly reading job descriptions.  I would highlight bits that sounded good about a role and slowly I started to build a picture of what I wanted.  And then, well frankly, I got lucky.  I stumbled upon my ideal job.  As I read the job description my heart was racing!  I was genuinely excited as I read the person spec – now I had a name for what I wanted to do.  From here on in it was much easier to find opportunities, and three months later I started work for The Careers Group as a Careers Adviser.
Posted by Jeff Riley in : CVs, Global Careers, Third Sector, career profiles , 1 comment so far
Originally posted at Getting into International Development
Comfort Osilaja was pulling her hair out. It's a regular experience for recruiters who are looking through CVs for international development internships and jobs.  Comfort has many years experience in the sector and has worked for Anti-Slavery International, Cafod and the Commonwealth Foundation.  One of her current projects is 'Identity Careers' which she runs with Kevin Cusack. Identity Careers provides training and coaching for people looking to start in the sector.
We spoke to Comfort about the damage she is inflicting on her hair.  "The problem is we do get lots of applications.  For example a recent internship was up on our site and JobOnline for just a week and I had to look through 42 applications. In some ways basic errors make my job easier. For example I can easily set aside applications from people who don't include a covering letter when asked to do so.  Or applicants who plaster Curriculum Vitae in big bold letters across their CV and have lots of 'special effects' – but then don't include a name. Believe me it does happen.
How can people make a good impression then? One thing lots of students do is automatically start with their education.
Now if the position doesn't really demand a degree or masters you may be better advised to start with your work experience.  Practical experience will always trump academic qualifications. For example lots of entry level roles – and indeed roles for more experienced people – need solid administrative skills.  These are more likely going to be demonstrated through work experience than university education?
Make it easy for the reader to see you have the right skills.  For example you may know that your accountancy experience has equipped you to deal with databases and data entry but make sure you explicitly talk about the latter and don't assume we will realise it.  We could probably work it out but we are skimming applications very quickly to narrow down the candidates.
Finally a common mistake is that people emphasise far too much how the role will benefit them and how much they will enjoy it.  To be honest recruiters are more interested in what you can do for them.  Its what you can do not what you want.
Does developing country experience make a difference? Honestly, its usually more important that people can find their way around an office than around Africa. Certainly for the entry level office work we were advertising recently. It is important that people demonstrate a passion for the sector but that can be done more practically through longer term volunteering in the UK than a six week experience in the summer holiday.
Posted by Andrew Falconer in : Languages, Law, Marketing, Marketing, Advertising & PR, Media, advertising and PR, arts administration, career profiles, city jobs, civil service, diversity, employability and skills, entrepreneurship , add a comment
From creative CVs to interviewers wearing pjyamas, this blog has covered them all this year. When we write these posts we think about our target audience of University of London students, but are mindful that people all over the world access these pages and may need different things.
Many of the ideas for posts come from conversations with students. Issues such as being put off during a Skype interview because the interviewer was sitting on a bed in a hotel room wearing boxer shorts. Or navigating the graduate job market with a lower degree result than you were hoping for. Other posts come from campus workshops we facilitate, including my interest in LinkedIn and social media as a career development tool.
Whilst most of the (unpublished) comments are offering cheap viagra, instant Facebook fans or very personal cosmetic surgery, others have provided genuine debate on the issues. It's nice to get comments and to be able to respond to such queries.
So here is our Top Ten Top Posts of 2011 based on readership, with a bonus 11 and 12 thrown in as a holiday special. Have a great New Year!
Posted by Andrew Falconer in : CVs, Performing arts, Publishing, employability and skills , 2comments
CV writing can become an art form. Getting across your education, experience, motivation and personal qualities in just two (or one) pages can be really challenging. How do you stand out from the crowd?
One of the employers interviewed on Career Player's "Sorting your CV" video warns about being frivolous and being quirky for the sake of it. Being creative isn't the same as being wacky.  Even a, one page CV for investment banks can have creative flair. You need to think about your audience. What sort of CV would the employer most prefer? What is appropriate for the market?
There are many great examples of really creative CVs, so here is my top four….
Number 1 – Michael Anderson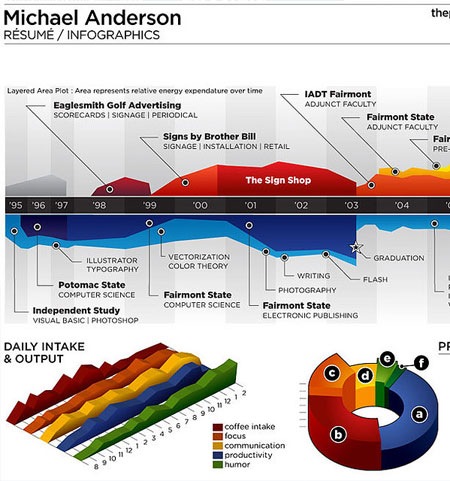 If you are working in Information Graphics what better way is there for you to showcase your abiliites than with your CV in infographic form? This attractice, colourful CV uses a range of techniques to give a professional career overview, with a strong sense of the author's personality.
Number 2 – Kristian Walsh
Project management tends to use charts as a visual means of understanding scope and timelines. This board-game approach is novel and clearly highlights the achievements and "bench-marks" in her life.
Number 3 – Yingshu Luqiu
When you print this CV you end up moving the paper around to see all of the text. That makes it very tactile and you feel much more engaged with it than a typical CV.
Number 4 – Chuck Lay
Another great use of the candidate's professional skill – a graphic designer using their experience to grab attention. This has a good level of content whilst demonstrating creativity and competence.